I need to limit the category pretty strictly to decide. But it's not simply a pragmatic limitation. Earlier Songbook posts have laid the groundwork for my main assumption, that the basic folk-rock recipe was to inject the purity and longing of the gentler, Baez-esque , side of the folk sound into the (already somewhat folk-inflected) sound of The Beatles .
Still, in some cases, the category is going to have to be a bit arbitrary. Basically, it applies to songs using the recipe circa 1965-1968, following the breakthrough example of the Byrds, often prominently featuring the jangle-y use (or imitation!) of the electric twelve-string. There are a couple of categories excluded then, the first of which will be the many folk-rock inflected pop songs , such as the wonderful "Summer Song" by Chad and Jeremy, "I Got You Babe," by Sonny and Cher, "Happy Together" by the Turtles, "Both Sides Now" by Judy Collins, and so many others—-many of these overlap with the "pop-art" sound I described in It Was the Dawning of the Age of the Harpsichord . These typically are not as guitar-based—the sound is often filled out by strings and such. The second category I'm going exclude are the late-60s sensitivity songs , which grew out of folk-rock and folk but which blend into the early 70s ascendance of James Taylor and such—some real beauties here, sometimes coming directly out of the folkie tradition, indeed often just recording acoustic guitar in novel ways. Examples: "For Emily, Wherever I May Find Her," by Simon and Garfunkle, "Candy Says," by The Velvet Underground, "Andmoreagain" by Love, and "Today" by Jefferson Airplane.
So, having set apart the folk-rock category that way, here are my choices. No links for really well-known numbers.
1) The Byrds, "Mr. Tambourine Man"
2) Jefferson Airplane, "Come up the Years"
3) The Squires, "Going All the Way"
4) The Gants, "I Wonder"
5) Jefferson Airplane, "Blues from an Airplane"
6) The Squires, "Go Ahead"
7) Vejtables, "I Still Love You"
8) The Byrds, "She Has a Way"
9) Love, "No Matter What"
10) The Byrds, "If You're Gone"
11) Simon and Garfunkle, "Sounds of Silence"
12) We Five, "You Were on My Mind"
13) Jefferson Airplane, "It's No Secret"
14) The Who, "The Kids Are Alright"
15) Scott Mackenzie, "If You're Going to San Francisco"
16) The Velvet Underground, "Sunday Morning"
17) The Byrds, "My Back Pages"
With "Mr. Tambourine Man," it's hard to decide between the original and the cover—that's how great both are. The Byrds version is known to be the beginning-point of folk-rock, but the impression I got from the authoritative book on the subject, Turn! Turn! Turn! by Richie Unterberger, is that there were plenty of other groups right behind the Byrds in terms of the basic sound—one of those "simultaneous discoveries" made by many folks in many places, in this case due to The Beatles.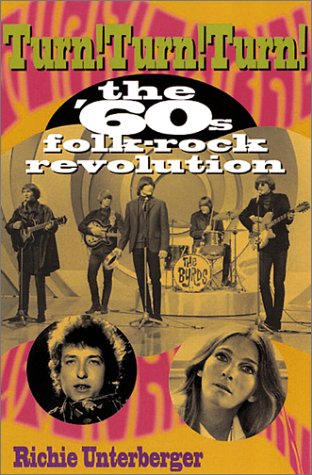 The folk-rock album is not however, the Byrds' debut, but  Jefferson Airplane's. They achieved, before becoming known for being a "psychedelic band," the best folk-rock sound: fuller and rockier than that of the Byrds, which at times, especially vocal-wise, gets kind of tiring. Their second album Surrealistic Pillow , is deservedly regarded as a rock classic (alas, their third, After Bathing at Baxter's is one of the best pieces of evidence for the "acid ruined the music" hypothesis), but for me it's still Jefferson Airplane Takes Off  that rules. "Come Up the Years," is its in all-ways-glorious standout—sure, there's always something creepy about "You're so young, but I love you anyhow" songs, but you'll make an exception for this one.
The folk-rock 45 is "Going All the Way," b/w "Go Ahead," by the Squires, a group largely unknown in the 60s outside of Connecticut, but later made famous by the Pebbles reissues. More on the garage-y and teenaged side of folk-rock. "Go Ahead" is just straight teenage heartbreak, Everly Brothers done Byrds n' Beatles style—that often is the most effective use of the folk-rock recipe. But the A-side is a breathtaking combination of rock n' roll drive with folk-rock emotional intensity, and lyrically, is a spontaneous declaration of young dreams, not the ones for world peace or cultural revolution, but the ones of personal ambition !
Like the Squires, The Gants were a regional band (Deep South), albeit on a bigger level. I'm sure they were dismissed by many as unabashed Beatles-imitators, but something about their imitation was off-kilter enough, and heading more in a folk-rock direction enough, to make it something really special. Sid Herring's voice, and songs, too. Love the Beatles and Byrds? You gotta get some Gants. In any case, a purer expression of young-man's shy love than "I Wonder," would be hard to find.
Also on the teenaged/simpler side, but more directly tuned to the Bay Area folkie vibe, were Vejtables. The video I linked makes 'em look goofy, given Jan Ashton's bored lip-synch and their hulking harmonica player—but close the eyes, and turn the volume way up: a wonderfully liquid yet danceable sound. We could compare their song here with that of the less Beatles-oriented and more folk-rooted We Five, also a California group. I prefer the former, but the latter displays the kind of dramatics and emotional charge folk-rock could deliver, and of course it was the huge hit. A similar, albeit subdued, sense of drama is part of what worked for "Sounds of Silence," whose lyrics I've discussed at length . Originally a very good folk song, it was transformed into the truly great folk-rock one we know by producer Tom Wilson's replacing its acoustic strumming with a track from an electric band, and without obtaining Simon and Garfunkle's permission! Wilson also produced the Velvet Underground's first LP, which begins with "Sunday Morning," subject of another songbook post —it's been overshadowed by the more famously controversial and experimental songs on that album, but deserves more attention as a distinct accomplishment. It's the folk-rock sound in a dronier mode, like a half-forgotten dream . . . . . . and it suggests why it was be the Velvet Underground, of all bands, that wound up making the best one-step-removed-from-folk-rock album of the very late 60s, their eponymous third release.
"No Matter What," is only one of the many good songs from the first Love LP, perhaps a little rough in the execution, but I had to include something from that very folk-rock flavored album—a glorious cover version by an 80s band called SS-20 exists, but not on you-tube.
As for my considering The Who's "The Kids Are Alright" a folk-rock song, I guess that when you were playing around with British Invasion stylings, you were just bound to stumble into something very much like the Byrds-y sound at some point—and there's a lot of British songs that on that score I perhaps should have included here, from the Searchers' early and influential "Needles and Pins" to maybe a good third of the Kinks' mid-60s catalog. But I had to limit things, and again, those Brits lacked certain key "California" ingredients . . .
Also there are a couple lesser-known Byrds songs . . . the haunting "If You're Gone" from the second LP, and the beautifully chiming rarity "She Has A Way." They should have done more of such love-songs. Instead, they wound up doing too many Dylan songs, sometimes shamefully draining them of life, although "My Back Pages" is certainly another instance where Byrdsmogrified Dylan really works.
Finally, a couple more from the early Airplane—note that in the photo below that's Signe Anderson, not Grace Slick. Both the lyrics and delivery of "It's No Secret" convey the idea of letting one's love-emotions just fly on out into the open—the band seems to be trying to hit upon a kind of white-folkie equivalent to the got-the-Spirit mode of black gospel and soul, and coming pretty near to succeeding. "Blues from an Airplane," by contrast, delivers its own sort of non-blues-based broody introspection, and does so 100%. Folk-rooted, sure, but from an entirely modern point of view, and with one foot already into the more paradoxical and disturbing sounds just around the corner.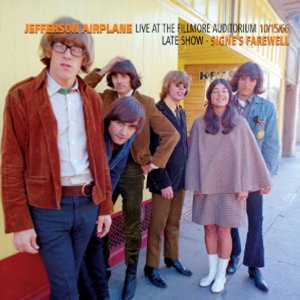 You could say of folk-rock that it's all "Going to San Francisco" (and you should let yourself admit that that song is exquisite, at least in its verses, which walk the line right between the folk-rock vibes of troubled broodiness and expectant highs ). And it's true, you can't start chiming the electric twelve-string or shaking the tambourine without evoking a certain early-to-mid 60s feeling of idealism. But as we'll see next time, there's been some great folk-rock done since the golden age, and more often than not it's been in the service of love song. I guess in all times, falling in love feels like being a folk-rock hippie in 1966.
Anyhow, I hope you enjoyed these, and do tell me your favorites.
Dear Reader,
We launched the First Things 2023 Year-End Campaign to keep articles like the one you just read free of charge to everyone.
Measured in dollars and cents, this doesn't make sense. But consider who is able to read First Things: pastors and priests, college students and professors, young professionals and families. Last year, we had more than three million unique readers on firstthings.com.
Informing and inspiring these people is why First Things doesn't only think in terms of dollars and cents. And it's why we urgently need your year-end support.
Will you give today?
Make My Gift